Requests Only: Joseph's Return to Life on the Road
In the midst of a three weekend Pacific Northwest residency, Portland's Joseph talks with Indie/Alt about the long break they took from live music following the COVID pandemic, and the unique shows they'll be taking on the road with their national tour kicking off in the spring. Photos by Emma Davis.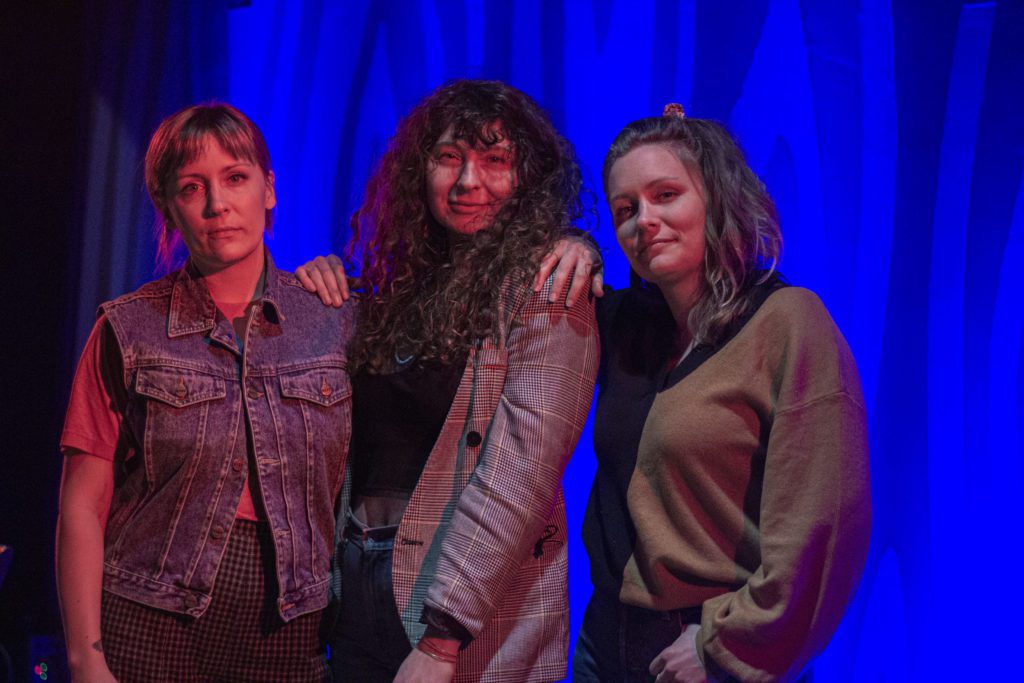 Minutes before doors were set to open for Joseph's grand return to the Doug Fir Lounge, things in the green room were undeniably hectic. Soundchecks for the band had wrapped, but there was still a lot to do before fans began to pour in.
This was no ordinary show for Portland's sister trio. Not only was this their first small venue show back home since the COVID pandemic, but it was the kickoff of a three weekend residency at both Portland's Doug Fir Lounge and Seattle's Ballard Homestead.
For the Oregon-born band–made up of sisters Natalie, Meegan, and Allie Closner–there was a lot riding on this night, and everything had to go smoothly. Luckily, amidst the chaos, the band still found time to sit down with Indie/Alt over a table of Sizzle Pie pizza to talk about their return to the stage, their Pacific Northwest residency, and what inspired the unique tour they'll be taking on the road in the spring.
A Long Time Away
In February of 2020, Joseph hit the road for a national tour in support of their third studio album, Good Luck, Kid. Starting off in Fort Collins, Colorado, the tour saw the band trekking across the states, with stops from Tennessee to Washington State, all culminating with a show in Salt Lake City, Utah on March 11th.
Though the tour was going well, chatter began to spread about the possibility of a coming pandemic. COVID-19 was starting to hit the news, and a lot of people were getting nervous.
"We were all talking about [COVID], because it was a thing people were talking about," said Meegan. "But it was like, that's crazy. This is crazy. That's not going to happen."
Fortunately, everything seemed to be running smoothly as they arrived in Salt Lake City for the final date of the tour. Unfortunately, they were unaware of the fact this wouldn't just end up being the final show of this tour. It would end up being their last show ever for over a year.
It was only the next morning when the COVID-19 pandemic shut everything down. Though the band was scheduled for an extra date in Tennessee, festival appearances, and a slot opening for Andrew Bird in the summer, all upcoming shows were canceled and Joseph were forced to halt their touring life.
Suddenly, the band found themselves apart from live music and from each other. Aside from a handful of livestream shows near the beginning of the shutdown, Joseph took a long break from performing. At one point, each sister found themselves in different states–even different countries.
For twins Meegan and Allie, having this break was a blessing in disguise. Being around each other for so long, they were able to take the time to find themselves as individuals away from the band for the first time in a long time. But it proved more of a challenge for their sister Natalie, who, as they say, is the true musician-at-heart out of all of them.
"She said to us one time, you guys have all these hobbies that are like all these other things, but like my hobby is music," Allie said. "So I think for her, it was a lot more difficult because that was so unavailable for the most part."
Away from the constant of live performing and music in general, Natalie found herself taking in a lot more than she was able to express, whether it be TV, books, or even just the constant hum of news that came through these past two years.
"I think all of us in the pandemic had to do more taking in than expressing in a lot of ways," Natalie said. "Here are all of these feelings, just like in a tumult inside me… I think a lot of people have different ways of getting it out. A lot of people were better at moving around, like yoga and things like that. But [music] was the way that I could."
Though the break from live music was certainly a challenge, having this time gave Natalie the space to write and record her self-titled EP, her first official solo project away from the band, which she will be bringing on the road for the first time as she acts as the opener for her band's tour. After this music helped her so much through the challenges of the past two years, she said, being able to share these new songs live is a really special thing.
"It feels nervy because normally when we play shows. we're really rehearsed, because we've done these songs like a million times," Natalie said. "But having that feeling of you're alive and you're trying something and there's a risk involved is really, really exciting. It's always unbelievable to just be vulnerable in front of an audience and have them hold that vulnerability with you, so I'm really looking forward to that."
Return to the Stage
After over a year away from live performing, Joseph finally made their return to the stage back in July of this year with two nights at Portland's Zidell Yards. Though they were performing for a live audience, they weren't quite the same as they used to be, with socially-distanced seating pods spread out amongst an outdoor lot.
"Our very first shows back felt very strange. I was expecting them to just be like, wow, that's amazing. We're back. But I think it came with a lot of emotions that I wasn't expecting," Meegan said. "But I think now that we've done a few shows and now going into like a tour is going to be really special."
After these few one-off shows and a handful of festival appearances, this tour marks the first time Joseph will be able to return to the intimate, indoor show setting the pandemic cut short.
"It's so nice to be in a smaller venue where it really feels like people are in it with you," Allie said. "There's just something about a smaller venue with just a couple of hundred people when it's just the vocals and guitar. I'm excited to have it be kind of more of like a small, living room kind of feel."
The shows are made even more special with their unique concept, as every night will take a "requests only" format, relying on the audience to choose what songs the band will sing.
"We did an Instagram post recently where we said like, comment your favorite lyric. And it was so interesting to see," Meegan added. "People got really into it and it was cool to see how many different songs people chose."
Inspired by their fans' passion and looking for a way to make their first tour back even more special, the band came up with the idea to make the tour requests only. Every night before the show, note cards and a submission box will greet people coming into the venue. Fans can write down any song from Joseph's entire discography–including covers–on the notecards and drop them in the box. At the end of Natalie's opening set, the cards will be quickly gathered and shaped into the night's setlist only minutes before the band takes the stage.
"When we're just making our set list and guessing what will work for the evening, it's great, but it can be very like muscle memory," Natalie said. "But I'm excited about that edge of the seatness that this experience will have. I literally have no idea what's going to happen."
On their first weekend of requests only shows, the audience chose well-rounded setlists for the band, with selections from all three of their albums, plus their Stay Awake EP. Portland especially put an emphasis on early Joseph songs, choosing cuts from their first album, Native Dreamer Kin, such as "Cloudline", "Tally Marks", and "Come in Close". Meanwhile, Seattle treated themselves to covers of Adele and Frozen 2's "Into the Unknown".
Though the bulk of the tour doesn't kick off until next March, these guinea pig nights of the request only format were the real test of what their upcoming spring tour will look like. Fortunately, the end result was a major success, and there was no better place to kick it off than Portland's Doug Fir Lounge, a venue that has meant a lot to the band over the years.
"When we were first starting out, the Doug Fir was like the goal venue for us. Like, if we can headline the Doug Fir… and then it was like, if we can sell out the Doug Fir…" Meegan said. "It's been a long time since we've played here now, because our audience has kind of outgrown it. So it's really fun now to come back and get to do multiple shows."
Joseph will continue their Pacific Northwest residency with sold out shows tonight, 12/10 and next Friday, 12/17 at Doug Fir Lounge in Portland. Tickets are still available for their shows tomorrow, 12/11 and next Saturday, 12/18 at Ballard Homestead in Seattle. The Requests Only Tour kicks off next spring, starting on March 11th, 2022 at Belly Up Tavern in Solana Beach, California. Get tickets and more information at thebandjoseph.com.