Girl of Her Dreams: FLETCHER at Crystal Ballroom
Upgrading from a sold out Wonder to a sold out Crystal, pop sensation FLETCHER brought her debut album, Girl of my Dreams, to the packed out Portland crowd for a night of queer longing and self-love. Words by Bren Swogger and photos by Emma Davis.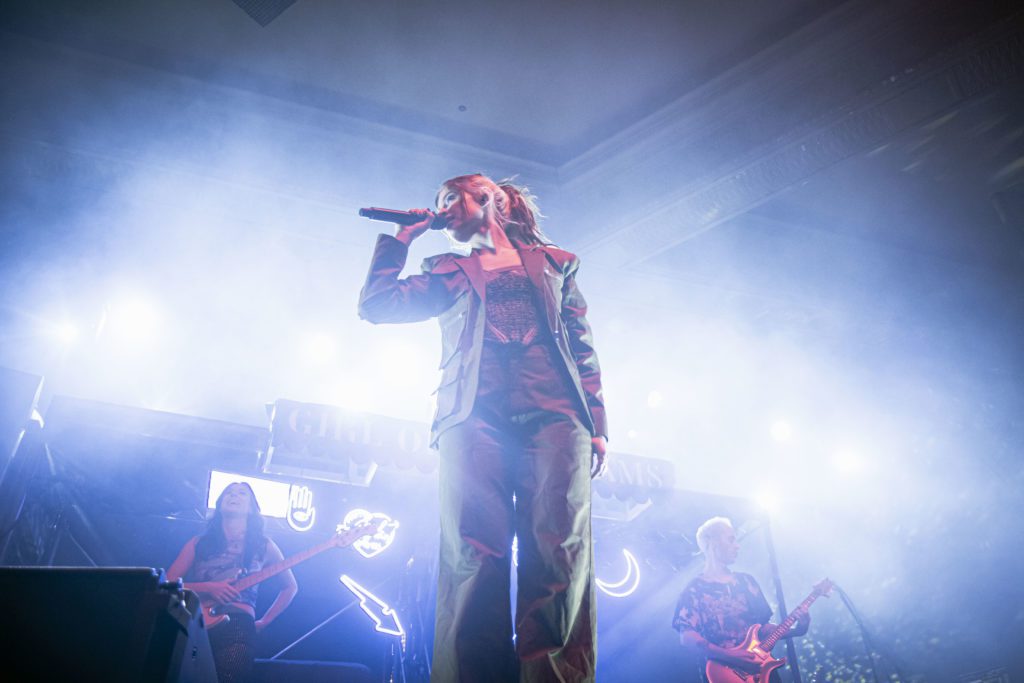 In the competitive field of pop music, it's hard for many artists to find a foothold to make themselves stand out. The industry is crowded with many fighting to stay in the limelight, vying to carve out a spot on the pedestal. Where many others have struggled to find their crowd, New Jersey's Cari Fletcher—known mononymously as FLETCHER—has established herself as a winning force.
Her skyrocket to the pantheon of pop greats is best exemplified by her latest tour, which ran for just over a month, stopping in 20 cities… and sold out every one of its 24 dates.
FLETCHER knows her crowd, and her crowd is all in. Packing out the Crystal Ballroom for her second sold out Portland stop this year (the first being February's dynamite Wonder Ballroom set), the crowd showed up armed with gifts, signs, and lights—all in the hopes of catching FLETCHER's attention from stage and standing out as the biggest fan.
It was the kind of energy and all-out fandemonium usually reserved for massive arenas or stadium shows. In the small quarters of the Crystal, it felt like a prophecy—a vision of where FLETCHER's constant rise may soon take her.
Kicking off the night was another promising pop entrant, Los Angeles' Chappell Roan, who took to the stage in a frilly blue and white dress, bursting with energy like a fairy tale doll filled with queer rage.
"This isn't the first time I've played here," Roan told the crowd. "Though last time I was here I was opening for Vance Joy. Very different crowd."
With FLETCHER's crowd, though, Roan was able to let loose, bringing her dancy, oft-times angry, bubblegum pop to just the right people. In addition to a rousing cover of Alanis Morisette's "You Oughta Know", Roan's "Feminomeon" is a near perfect pop anthem that sent the crowd into hysterics in its massive dance break chorus.
Just before FLETCHER's headline arrival, a black sheet that had till now been shrouding the stage was lifted, unveiling the massive set that would backdrop the night. Bathed in neon lights, the stage was transformed into a dark street corner—a psychic reading booth, beckoning its customers forward for a mysterious dream reading.
As the lights dimmed, the crowd went wild, and FLETCHER made her way onto the stage, kicking off the set with Girl of My Dreams track "Guess We Lied…", crowd banter was kept to a minimum. Instead, Cari Fletcher was focused on her performance—equal parts outstanding vocals ability, and a sexy swagger that kept the fans fawning on her every move.
It only took one song for FLETCHER to disappear from the stage and reappear on top of the psychic booth itself, the awning of the set acting as an elevated stage for her to look down upon her thirsting fans as she launched into "Conversations" and standout opening track "Sting".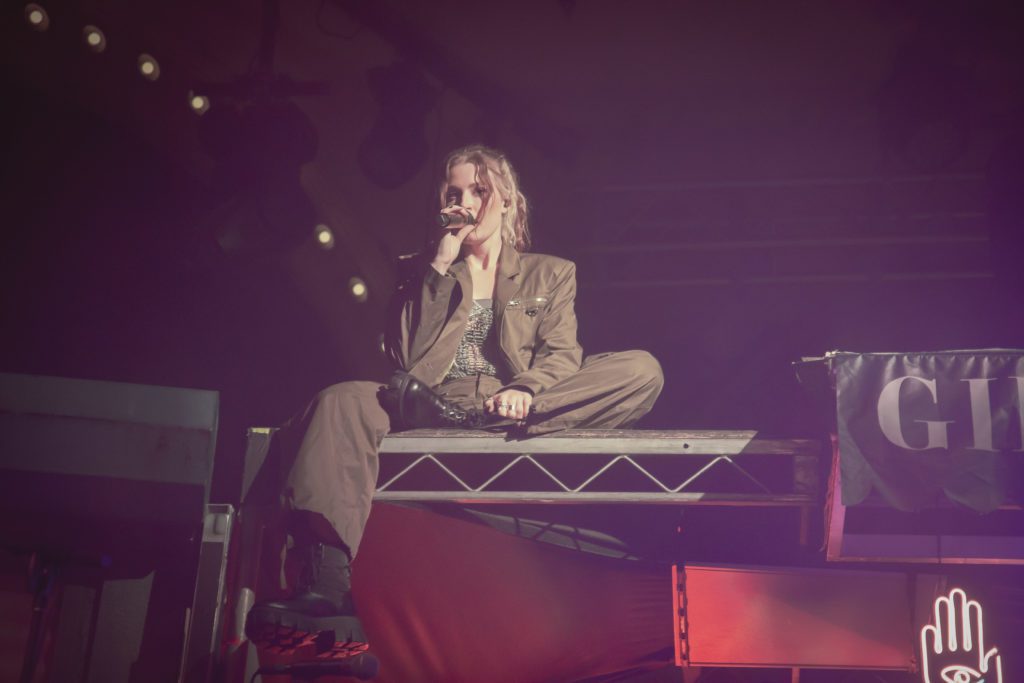 Though her debut album is flush with queer anthems, ranging from heartbreak to longing to lust, FLETCHER's stellar record finds its best moments when it turns the lens back toward the artist herself, basking in moments of introspection and self-love. After an eight song run of upbeat anthems, FLETCHER finds a moment to slow things down and shed the persona.
Sitting atop the awning with her guitarist, a hush runs over the room as she serands the crowd—and most of all herself—with an acoustic rendition of "I Love You, Bitch."
"So I've been looking in the mirror and I practice saying this: I love you, bitch," she sings. "Now I say it to nobody but myself. I love you, bitch."
It's in these tender moments—when FLETCHER disappears and the crowd meets Cari—that the true meaning of her debut record's title is revealed. For every possible girl of her dreams that has come to be, the most important one is the one she looks at in the mirror.
And though the sex appeal comes back to the stage again—as she emerges once again in lingerie for a steamy cover of Britney's "If You Seek Amy"—the self-love never ceases.
Closing out the night on acoustic guitar with a song all her own, "For Cari", FLETCHER makes one thing clear to the crowd.
She is, and forever will be, the only girl of her dreams.