Bringing the Heat: Tove Lo at the Roseland
Following a record snow storm, Tove Lo brought the heat to welcome a massive crowd to her Portland return. Words by Bren Swogger and photos by Sydnie Kobza.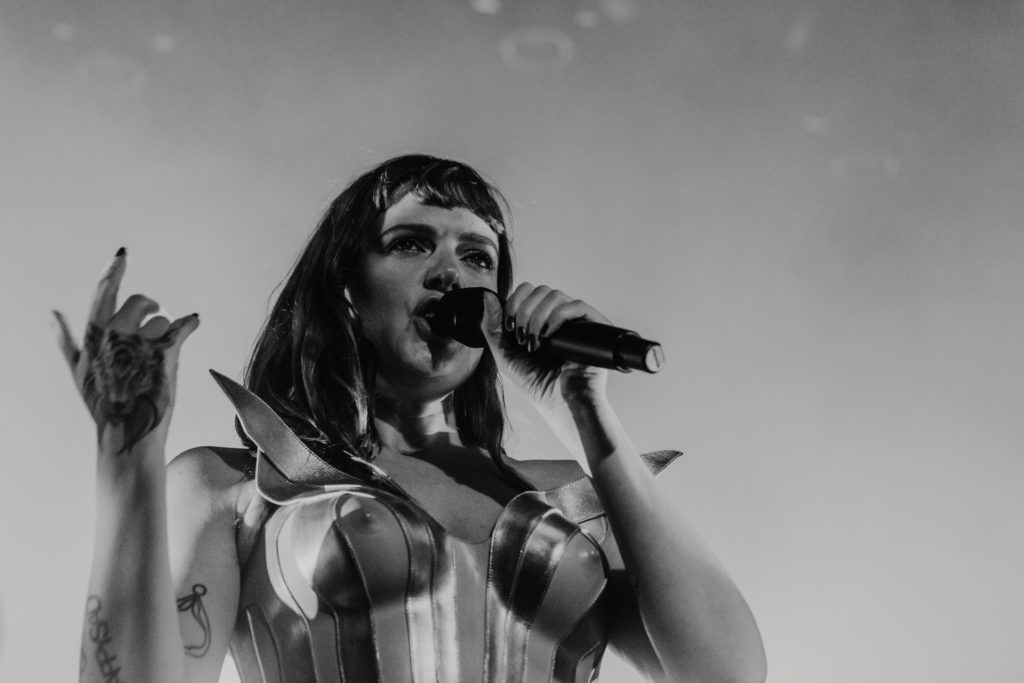 For late February, Portland doesn't usually expect much in the way of snow. A typical Portland winter consists of rain, rain, cold and cloudy skies, and more rain. But lately, as weather tides shift, things have been getting a little more unpredictable.
In years past, ice storms and flurries of snow have made traversing the city and suburban streets dicey, and adding an extra challenge for fans with tickets to shows in the winter months. But not in nearly 40 years has Portland seen the level of snow that came through the last week of February.
Facing nearly a foot of snow in the city, uncertainty bounded about any events in the days that followed the freak flurry. One such show was one that many fans had been waiting three years for: the return of Swedish pop master Tove Lo.
Her latest record, Dirt Femme, represents her strongest work yet, filled to the brim with the same sexy, catchy pop bangers that Lo has made her career on. And the possibility of seeing some of these songs live was one that nobody wanted to miss.
But the roads would be treacherous. It was a waiting game to see if the show would go on.
But go on it did. Her biggest fans didn't bat an eye to the icy conditions, snaking the line around the block to get inside as the Roseland welcomed Tove Lo back to its hallowed halls almost three years to the day since her last pre-COVID concert at the same venue.
After spicy opening performance from hyperpop darling Slayyyter, who didn't let her 6-inch stiletto heels stop her from jumping around the stage with boundless energy, Tove Lo made her epic return with a bang, kicking off the show with Dirt Femme's sexiest track, "Pineapple Slice".
"Today is our three year anniversary," she told the crowd, as she reminisced about the challenges that came in the wake of her last Portland visit–which unfortunately was accompanied with a broken foot. But now she was back, foot intact and fans gathered, ready to give them a show worth freezing for.
Surrounded by light-pulsing clouds on the stage, a wink and a nod to the title of her 2014 debut, Tove Lo followed the sexually-charged "Pineapple Slice" with a double-whammy of "Attention Whore" and "Cool Girl" before pulling out a deeper cut from her last album, "Are U gonna tell her?"
Midway through the set, Tove served two of Dirt Femme's best tracks back to back: "True Romance", which put her underrated vocal abilities on full display, and "Grapefruit", quite possibly the most personal song of her career, a fact she made sure to point out to the crowd.
"Thank you for giving me a space to sing a song like 'Grapefruit'," she said, "especially half naked, since I used to hate my body as a teenager."
Closing the main set with Lady Wood track "True Disaster", Tove couldn't ignore the call of the fans for more, and returned with a surprise treat for the Portland crowd.
Requested by a fan during a pre-show meet and greet, the sold out Roseland got to bear witness to the live debut of a Tove Lo deep cut, Sunshine Kitty track "Passion and Pain Taste the Same When I'm Weak", co-written with Finneas O'Connell.
Just as "True Romance" before it, the acoustic rendition put her vocals front and center, and brought a hush over the crowd, coming down from the high of the constant stream of sexy synth pop they'd been fed.
But Tove Lo couldn't leave without bringing that high back to full power. Closing the night with "Habits" and Dirt Femme opener "No One Dies From Love", Tove Lo made sure the crowd had enough heat to last them through the rest of this unusually cold Portland winter.
Bren Swogger (they/them) is the creator and editor of Indie/Alt Magazine. Bren started Indie/Alt as a music blog during their sophomore year of high school, and after a long hiatus, relaunched it as an online entertainment magazine in 2021 for their capstone project at Pacific University. After 10 years in the music journalism industry, Bren has a long-standing passion for live music, but also loves to explore their passion for other artistic outlets. You can find Bren writing voraciously, adding to their never-ending stack of TBRs, and marathoning classic horror films.