Into the Void: Melanie Martinez at Theater of the Clouds
Don't be fooled by the four eyes and scales. Melanie Martinez put on a beautiful show in Portland on a sunny Sunday night while capturing the art form of their newest album, Portals. Words and photos by Paige Fulkerson. View Paige's full photo gallery from the show here.
With intent of seeing how the popular 2015 singer, Melanie Martinez, has evolved, I found myself attending their current North America Portals Tour and to say the least, I was impressed.
The 2012 X-Factor star became famous due to her first debut album Cry Baby. Along with the album came the persona of Cry Baby, which was loved throughout the music world, becoming a popular alternative aesthetic at the time. After first seeing Martinez on their Cry Baby tour in 2016, I was eager to see them again in their new form.
Martinez, with the release of their newest album, Portals, has announced that the Cry Baby era is over and that the character of Cry Baby is dead. While her third studio album is still a continuation of the story presented in her past two records, Cry Baby and K-12, the character is completely different.
In their newest album, Portals, Martinez is seen wearing a half face of prosthetics that reaches just below her top lip. The prosthetic face has Martinez donning four big eyes with long lashes, a petite nose, big pink cheeks, and a pursed top lip. The prosthetic also covers her ears, adding huge, pink, alien ears, full of earrings.
Artist Laurel Charleston has been adding their twist on Martinez's makeup for their new Portals look, glamming Martinez up with new beautiful and unique looks for every show of the tour. However, Martinez's new face is not where it ends. Martinez is seen sporting pink skin from head to toe as well as prosthetic gloves where their skin is scaled and their fingers are long. Not only is Martinez seen with their new look on stage and on their newest album cover, but they have rarely been seen without their newest persona, fans only getting a sneak peak of the singer's face when their partner, Verde, occasionally posts.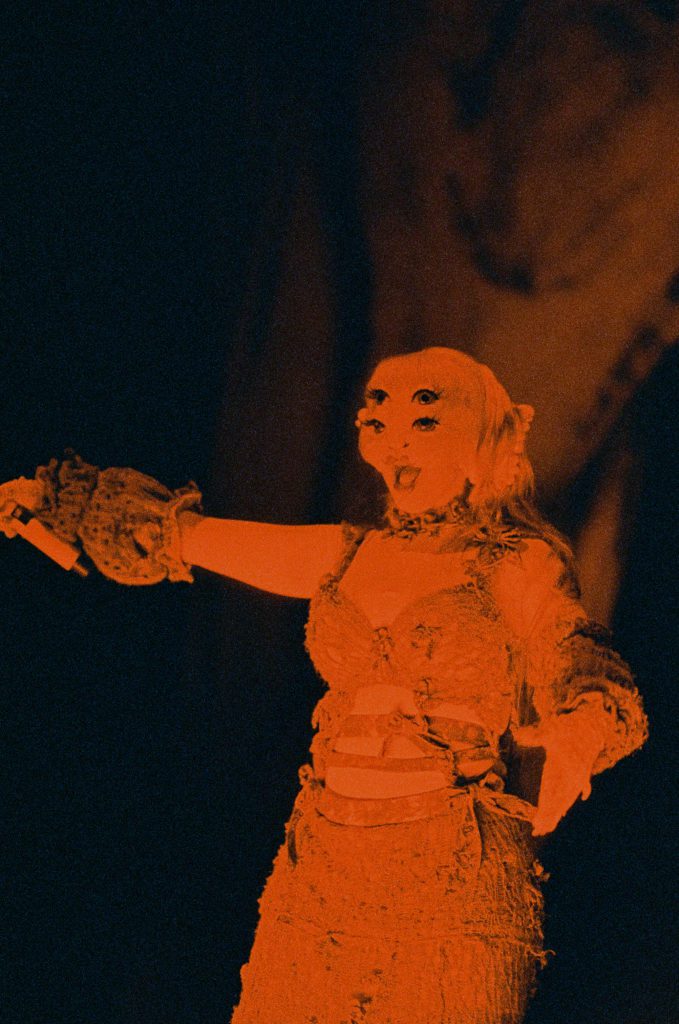 As Martinez is keeping up with their identity created within the Portals album, they also put on a mesmerizing show, performing their deluxe album front to back. Martinez has always been one of the most unique performers. At this specific tour, they were seen on stage in a dark brown and magenta two-piece skirt and bra set, which included a magenta bow on the back and fabric vines that wrapped around their stomach.
Martinez was accompanied with four background dancers on their stage that was full of blow-up mushrooms, vines of ivy hanging from the ceiling and beautiful visuals that changed for every song. What surprised longtime fans was the fact that Martinez failed to perform any songs from their two previous albums. While many are upset they aren't getting to hear some of their favorite songs this tour, many die-hard fans support Martinez's decision due to the fact that Cry Baby is dead, therefore the old songs do not make sense to perform.
The Portland show at Theater of the Clouds was special for new and old fans alike. The show began with a visual of a fairy-like forest in which "RIP Cry Baby" was carved into a tree. Whimsical and even creepy visuals were constant throughout the show, and during their song "VOID", the lights and visuals made it seem like Martinez was actually exiting from a sort of void or portal. I was also highly impressed with Martinez's background dancers, who interacted with her and told a story through dance behind Martinez. The dancers were highly acrobatic and flexible, always on beat, and they seemed to highlight Martinez and their songs perfectly.
The front row of VIP fans were beautifully dressed for the occasion, sporting woven ears which resembled Martinez's and extravagant makeup that surely caught her eyes. The show ended with "MILK OF THE SIREN", where confetti cannons filled with pink butterfly confetti went off and Martinez thanked the Portland crowd. The decked out fans left with smiles and handfuls of confetti as the lights turned on and the late summer sun set.
Melanie Martinez's Portals Tour concludes in Phoenix, AZ on June 12. More information and tickets available on melaniemartinezmusic.com.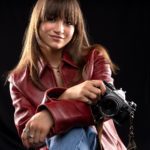 My name is Paige Fulkerson and I am a 35mm concert photographer and writer for Indie/Alt Magazine! At Indie/Alt I get to express my unconditional love for live music and photography while learning and growing as I go, with the help of Bren and my peer photographers. Outside of Indie/Alt Mag, I am a Photojournalism major and Art minor at the University of Oregon and shoot 35mm lifestyle photography! 🎞️