Day In Day Out: Magic Underneath the Space Needle
Photographer Paige Fulkerson escaped the Oregon heatwave with a trip up to Seattle for day one of Day In Day Out Festival, featuring Surf Curse, Dominic Fike, Leon Bridges, Indigo De Souza, Yaeji, and Alex G. Words and photos by Paige Fulkerson. All photos shot on Cinestill 35mm 800T film.
Taking place over two days in sunny Seattle, Washington, Day In Day Out Music Festival (DIDO) brought a short but incredible lineup of artists to Seattle Center's Fisher Green Pavilion, with Leon Bridges and Bon Iver headlining, and artists such as Dominic Fike, Yaeji, Surf Curse, and Ethel Cain rocking the afternoon stage below the iconic Space Needle.
On day one of the festival, alt-hip-hop singer-songwriter Dominic Fike took to the stage second to last, the festival date part of his Don't Stare At The Sun tour in support of his 2023 album, Sunburn.
While many amazing artists performed on Saturday, it was proven that the majority of the front row crowd was attending just for Fike. Many girls sporting "I ❤️ Dominic Fike" crop tops and hand made Sunburn merch proved the point. The girls who had been waiting in the sun all day for Dominic screamed as he proclaimed, "there's a lot of hot girls here tonight."
Closing the festival on Saturday evening was Grammy-nominated soul singer Leon Bridges. Dressed to the nines and accompanied by a full band and back-up singers, Leon performed a beautiful 18-song set to the crowd of hundreds of festival goers while the Space Needle sparkled. A better headliner couldn't have been asked for.
The Seattle festival was surely one to beat, and it feels safe to say that I will be attending DIDO 2024. I'm excited to see how they can top this year's jam-packed lineup.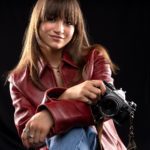 My name is Paige Fulkerson and I am a 35mm concert photographer and writer for Indie/Alt Magazine! At Indie/Alt I get to express my unconditional love for live music and photography while learning and growing as I go, with the help of Bren and my peer photographers. Outside of Indie/Alt Mag, I am a Photojournalism major and Art minor at the University of Oregon and shoot 35mm lifestyle photography! 🎞️