Dreams in Gold: Greta Van Fleet at Veterans Memorial Coliseum
Hard rock band Greta Van Fleet joined Portland together with stars and rock and roll at Memorial Coliseum on August 5. Words and photos by Paige Fulkerson.
On the night of August 5, Greta Van Fleet—the three Kiszka brothers and their best friend and drummer Danny Wagner—took to the Portland stage, coming together to put on a jaw-droppingly beautiful show on their Star Catcher World Tour. I was lucky enough to have a front row seat, and to put it simply… the four boys put on a hell of a show!
As I waited for the boys to come on, I chatted with a couple girls on the barricade. One was holding a sign that read "a broken foot doesn't stop me from being here". With a broken foot accompanied by a scooter, she had driven from the Seattle show to Portland overnight, and had been in line since 7am.
Greta fans are no joke; many groupie-ing, many old, many young and many that have waited years to see them back in Portland, like myself.
Not only did lead singer Josh Kiszka wow the crowd with his incredible vocals and stage presence, but he also shocked fans with his five outfit changes, while his twin brother and guitarist Jake Kiszka captivated the audience with a lengthy guitar solo, followed by a drum solo from Danny.
Jake's skill and confidence on the guitar was mesmerizing, often playing behind his back, crouching down low, or teasing the audience on the stage's mirrored cat walk.
At the end of the night, glitter ran down people's faces and dresses flowed. The crowd dispersed, feeling as if they were walking in a dream of gold.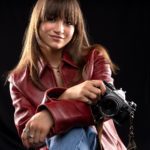 My name is Paige Fulkerson and I am a 35mm concert photographer and writer for Indie/Alt Magazine! At Indie/Alt I get to express my unconditional love for live music and photography while learning and growing as I go, with the help of Bren and my peer photographers. Outside of Indie/Alt Mag, I am a Photojournalism major and Art minor at the University of Oregon and shoot 35mm lifestyle photography! 🎞️