Oink Oink! Peter McPoland at Wonder Ballroom, Portland
Singer-songwriter Peter McPoland's Piggy tour reached Portland, Oregon, bringing a zealous night out to the Wonder Ballroom on a freezing Saturday night. Words and photos by Paige Fulkerson.
Being only 22 years old, Peter McPoland's confidence and presence on stage would've made anyone think that he had been performing for decades. After jumping over the barricade into the pit during his show in Chicago, Peter broke his 5th metatarsal in his right foot and has been sporting a boot ever since. While a boot is not ideal circumstances for a tour, Peter's broken foot didn't stop him from putting on a mind-blowing show while asking the crowd to do what he couldn't do himself… and the crowd delivered.
After doing three nights in a row of the Piggy tour, starting in Seattle and ending in Portland, the crowd gave Peter back the energy he was giving us. As he jumped on his one good foot the crowd went absolutely feral, jumping and screaming along with him.
While I wish every show was like McPoland's, he is truly a one of a kind person, musician, and performer who gives everything and more to his fans. His kindness and energy is unmatched and while this is my second McPoland show, you can bet that I will be going to many more to experience what a Peter McPoland show is over and over again.
The Piggy tour will end in mid-November where McPoland will likely announce a second leg of the tour where he will hit new cities in the U.S.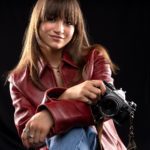 My name is Paige Fulkerson and I am a 35mm concert photographer and writer for Indie/Alt Magazine! At Indie/Alt I get to express my unconditional love for live music and photography while learning and growing as I go, with the help of Bren and my peer photographers. Outside of Indie/Alt Mag, I am a Photojournalism major and Art minor at the University of Oregon and shoot 35mm lifestyle photography! 🎞️