Star of the Stage: Ben Platt at the Theater of the Clouds
At his first ever Portland performance, Ben Platt proves his talent goes beyond the Broadway stage in a passionate pop performance with help from Aly & AJ. Words and photos by Bren Swogger.
In a rare sight for the Moda Center, the Rose Quarter campus remained fairly empty not 30 minutes before doors were set to open for Ben Platt's first ever Portland show. In comparison to shows like Backstreet Boys before, where the venue was packed with snaking lines and activity hours ahead of the show, Ben Platt's crowd of devotees was much smaller. But with a background in theater, this small intimacy was exactly the kind of feeling that Platt needed.
Rather than playing to a full Moda arena, Ben Platt's inaugural Portland show took to the clouds—the Theater of the Clouds, Moda Center's intimate theater setup. It transformed the sprawling space into just the type of atmosphere that someone like Ben Platt thrives in. And it was clear from the get-go this was his space to claim.
But before the Broadway and Hollywood darling could greet the Portland crowd, a welcome visitor to the Rose City took to the stage to warm things up. Arriving in matching pinstripe suits, Aly & AJ returned to Portland for the first time since their headline show at the Roseland to deliver a rousing set of tracks from their latest records, as well as some classic throwbacks to appease those less familiar with their new material.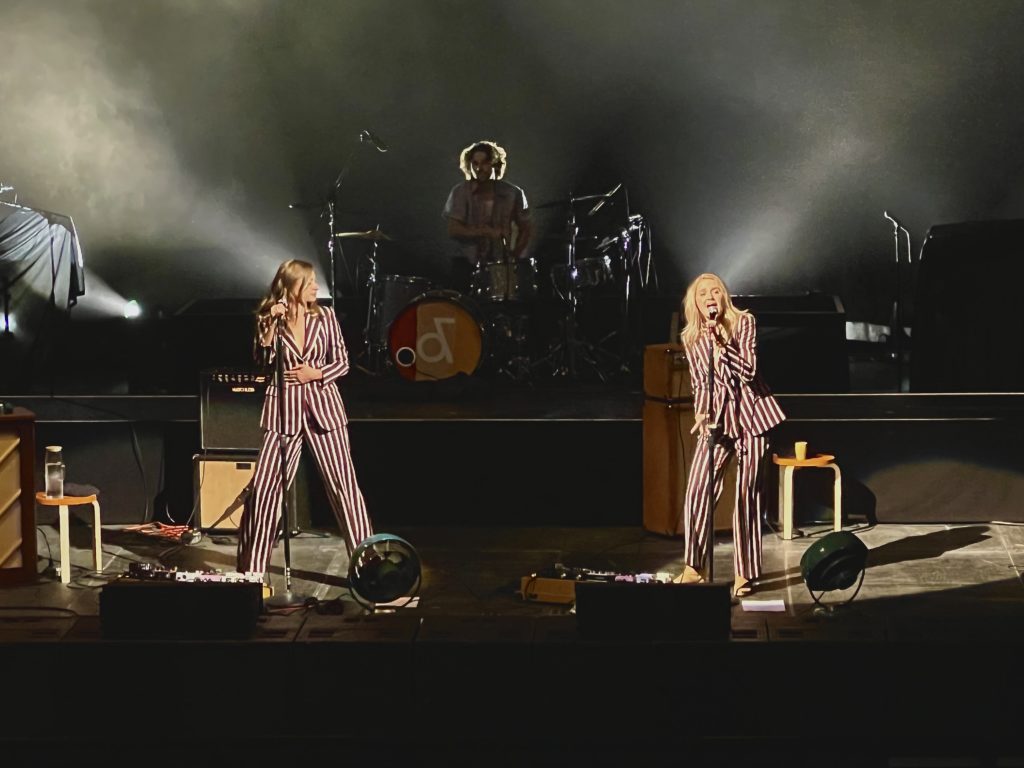 Just as they did at Roseland in April, the sister pop duo brought the sunshine to the stage. However, nearing the end of their set, it seemed like their California sun may have heated things up a little too much, when on their latest record's title track, the sound system blew out.
"It seems like we might have just blown the roof off the Moda Center," AJ joked to the crowd. Luckily, the band was able to overcome their technical difficulties just long enough to make it through their last song of the set, crowd favortie "Potential Breakup Song," which had the Moda Center on their feet and singing along.
As soon as Aly & AJ made their exit, the stage was transformed into a sprawling open playground for the night's headliner, accented with a massive curved curtain that served as an elegant backdrop. As the lights dimmed down, an ethereal intro of Platt's "king of the world, pt. 1" echoed out before he appeared suddenly in the center of the stage, ready to give his all.
"This tour is the first time I've been able to be on a stage in three years," Platt told the crowd between songs. With so long away from the stage—whether in concert or on Broadway—Platt had a wealth of energy and passion built up, ready to ignite.
Through his 18 song setlist, Platt played tracks from both his debut record, Sing to Me Instead, as well as last year's Reverie. On both albums, Platt is able to take his powerful and signature vocals, clearly shaped from his Broadway background, and apply them to bright, upbeat and soaring pop songs. It's the perfect transformation, and live, it all shines even brighter.
Paying tribute to his roots on the stage, he also indulged himself and the crowd with a moving cover of "She Used to Be Mine" from the Broadway musical Waitress. And putting his all into his performance, he also treated the crowd to a dramatic cover of Lady Gaga's "You and I", delivered with all the Broadway camp and flair possible.
Throughout the set, Platt proved himself to be more than just a Broadway star, but a pop star to boot, striding the stage, connecting with the crowd, and showing that he's more than just a one-trick pony. With stake and talent on the stage, screen, and in the pop music field, Ben Platt just might have an EGOT somewhere on the horizon.
Bren Swogger (they/them) is the creator and editor of Indie/Alt Magazine. Bren started Indie/Alt as a music blog during their sophomore year of high school, and after a long hiatus, relaunched it as an online entertainment magazine in 2021 for their capstone project at Pacific University. After 10 years in the music journalism industry, Bren has a long-standing passion for live music, but also loves to explore their passion for other artistic outlets. You can find Bren writing voraciously, adding to their never-ending stack of TBRs, and marathoning classic horror films.