Ultrapure at Music Millennium: Briston Maroney's Record Store Tour
Multi-talented artist Briston Maroney stopped off at the Pacific Northwest's oldest record store and a Portland favorite, Music Millennium on October 5 as part of his Record Store Tour. Words and photos by Paige Fulkerson. Shot with 35mm CineStill 800T film.
Tennessee songwriter Briston Maroney teamed up with Record Store Day and announced a Record Store Tour. Soon after, he announced his ULTRAPURE North America tour which makes another stop in Portland in Spring of 2024. While I am looking forward to seeing Maroney's performance with a full band, I'm not quite sure it will live up to how magical Thursday night was for Briston fans.
The small Portland record store crammed people in to see Maroney play up on the store's balcony. Everyone in the crowd was holding their newly purchased and released Ultrapure records as that was the cost of admission. Maroney was calm in his presence and performed his six song set beautifully. His lyrical abilities and voice are unmatched in an acoustic setting. Each song from Ultrapure sung a little differently to fit for just Briston and his guitar.
After Maroney's set, they met fans downstairs to take pictures and sign records. Although the line was long, every single person who had attended the show waited in line to meet Brsiton himself. Some fans had just heard about Briston's music while others have been a fan since his 2018 EP Carnival. Girls got their clothing signed, gave him gifts and thanked him for his music.
I am excited to see him perform at a much larger capacity in the Spring but the raw emotion and connection the record store tour gave to the fans will be unmatched. Excited to see what the Ultrapure tour has in store for fans in 2024.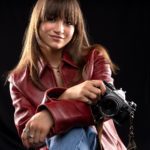 My name is Paige Fulkerson and I am a 35mm concert photographer and writer for Indie/Alt Magazine! At Indie/Alt I get to express my unconditional love for live music and photography while learning and growing as I go, with the help of Bren and my peer photographers. Outside of Indie/Alt Mag, I am a Photojournalism major and Art minor at the University of Oregon and shoot 35mm lifestyle photography! 🎞️